Waterproof socks are no longer a strange concept for most people, especially for outdoor enthusiasts. A pair of high-performance waterproof socks play an essential role in a wonderful experienced hiking, for it can keep your toes dry while also prevent a soggy mess after a long days hike, as well as keeping warm but breathable in cold days; not only that, the top waterproof socks will also be key in warding off fungus from growing on your feet.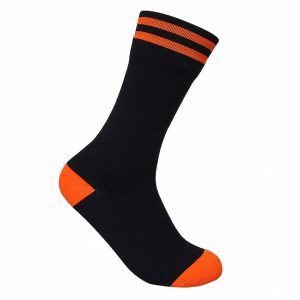 Here we will take a detailed look at WATERFLY waterproof socks - one of the most popular waterproof socks on the market, and you will get an overall understanding of it.
Material
WATERFLY waterproof socks come with 3 layers durable construction, including a nylon exterior layer (98% nylon + 2% rubber), a waterproof membrane and a wool interior layer (35% merino wool + 65% nylon), all these make it breathable, warm and durable.
Like the ordinary winter socks, the outside layer of this waterproof sock is soft and smooth, you can't distinguish it with regular socks by touching the surface and its appearance; the middle waterproof membrane is the key layer for waterproof; while the inner layer is soft merino which helps wick away sweat and prevents smells caused by bacteria.
Waterproof Performance
Honestly, I was actually skeptical about its waterproof performance before I testing it. Before the test, I prepared a basin of water, several pieces of tissues, a pair of ordinary winter socks and WATERFLY waterproof socks.
I wore the ordinary winter sock on my left hand and WATERFLY waterproof socks on the right hand, then let both hands immerse in the water, the ordinary sock got wet immediately, after 30 seconds, my left hand was also totally wet when I took off the sock; after 10 minutes, I took off WATERFLY waterproof sock and found my right hand was completely dry without any water permeating in.
Still, I want to see how long does the waterproof socks last to proof water, so I put the tissues in the waterproof sock and immersed it in the water again. After 72 hours, I took out tissues in the sock and found the tissues were totally dry!
Incredible, right? Even I didn't wear these waterproof socks for any long-last sports, you can see in this test, WATERFLY waterproof socks can proof water for a long time, which are absolutely enough for outdoor sports or hiking.

What I have to mention here is that these waterproof socks are actually waterproof below the logo part, which means that the neck part of the socks is not waterproof. But it doesn't matter, for WATERFLY waterproof socks have enough long ankle part for most applications.
Workmanship
What impressed me most at the first sight is the perfect workmanship. I promise you can't find any needless thread on the socks. All the outside is ultra smooth and delicate. It is absolutely one of the most decent gifts for hiking friends or relatives.
Breathability
Breathability of WATERFLY waterproof socks is remarkably good, as long as the weather isn't too warm. I wore them at sub-5°C temperatures and found they were able to keep my feet cool and relatively dry - certainly dryer than I've found by wearing shoe covers in similar conditions.
When I pull the sock transversely, numerous tiny holes can be seen clearly, so even with 3 layers, WATERFLY waterproof socks are extremely breathable. Of course, you can feel its air permeability when it is actually taken on.
Fit & Comfort
With 4 sizes and 5 optional colors, WATERFLY waterproof socks cater to various sports like running, hiking, cycling, traveling, golf, etc. As well as suitable for different groups (males and females).
Price
After reading the above review of WATERFLY waterproof socks, you might be surprised about the price of such high-performance socks! The incredible favorable price is absolutely affordable for most customers!
Verdict
WATERFLY waterproof socks really do work! They keep your feet properly dry, easy to wash and are long-lasting. I can't recommend them highly enough. Attractive price fits for all hikers, so what are you waiting for? Never miss such magic socks in your journey~